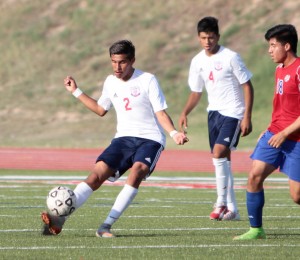 The Dodge City boys soccer team finished off their regular season on Thursday with a 3-0 win at Liberal. The result gave the Red Demons a perfect 8-0 record in WAC play this season.
In his first season as the Red Demons head coach, Saul Hernandez, led his team to a school-record 15 regular season wins. The only blemish on record this season was a 3-2 overtime loss to St. Thomas Aquinas earlier this season.
With a conference title secured, Dodge City's quest for a regional title will begin next Tuesday when they host Junction City at 6 p.m. The 15-1 Red Demons have secured home field advantage throughout regional play. They enter regional play riding a 13-game winning streak.
By John Zetmeir – Dodge City Daily Globe
Regional Soccer Standings
| Seed | Team | Wins | Losses | Ties | Avg. | Game |
| --- | --- | --- | --- | --- | --- | --- |
| 1 | Dodge City | 15 | 1 | 0 | .938 | Tue. 6:00 |
| 2 | Topeka-Washburn Rural | 13 | 2 | 1 | .844 | Mon. 6:00 |
| 3 | Manhattan | 13 | 3 | 0 | .813 | Tue. 6:00 |
| 4 | Lawrence-Free State | 10 | 5 | 1 | .656 | Mon. 6:30 |
| 5 | *North | 10 | 6 | 0 | .625 | Tue. 3:30 |
| 6 | *Hutchinson | 10 | 6 | 0 | .625 | Tue. 4:30 |
| 7 | *Garden City | 10 | 6 | 0 | .625 | Tue. 5:00 |
| 8 | Northwest | 9 | 7 | 0 | .563 | Tue. 7:00 |
| 9 | **East | 8 | 8 | 0 | .500 | Tue. 4:00 |
| 10 | West | 8 | 8 | 0 | .500 | |
| 11 | Topeka | 7 | 9 | 0 | .438 | |
| 12 | Campus | 6 | 9 | 1 | .406 | |
| 13 | Southeast | 6 | 10 | 0 | .375 | |
| 14 | Derby | 4 | 10 | 2 | .313 | |
| 15 | South | 4 | 12 | 0 | .250 | |
| 16 | Junction City | 2 | 14 | 0 | .125 | |
Tie-breakers
#1 – head to head
#2 – total wins
#3 – coin flip
*North, Hutchinson, Garden City were drawn by lot
**East has head to head over West