By John Zetmeir
Dodge City Daily Globe
Coming into the season, head coach David Snodgrass wanted his team to be playing their best tennis when they got to Great Bend in early October to compete for a Western Athletic Conference championship.
On Monday, the Dodge City girls tennis team did just that. The Red Demons finished the regular season at WAC champions.
Dodge City started the day off against Hays. Snodgrass admitted that he was a little nervous going into the first matchup because Hays has been a tough opponent for the Red Demons this season.
"I knew that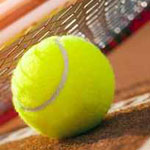 we would have to play very well at the beginning of the day and we were able to win three out the four matches against Hays," Snodgrass said. "That really set the tone for the rest of the day."

In their last matchup, Dodge City bested Garden City in three out of four matches to earn the WAC title.
Senior Suzy Arkell has been one of the Red Demons most important players this season. She continued her strong run of form on Monday to earn the WAC title in the No. 2 singles bracket.
"At first I had her play singles just to work on the mental side of the game as a tennis player," Snodgrass said. "She started off being so dominant that I looked at the numbers and said hey this will give us the best opportunity to be successful as a team."
The Red Demons also took first place on the No. 2 doubles side courtesy of Sklyer Childress and Marissavel Rodriguez. Sophomore Leah Stein took third in No. 1 singles play and the No. 1 doubles team of Adriana Rodriguez and Hannah Sowers finished in fourth place.
"As a team if felt amazing to win," Arkell said. "We all performed well and we've been carrying this out through the last two meets." Dodge City will look to keep their momentum rolling this Saturday when they host the regional tournament.
"I feel as we go into regionals, if all of the ladies perform as they did today and continue to play very well, we have the chance to qualify some girls for state," Snodgrass said.
Matches will start at 10 a.m. on Saturday.