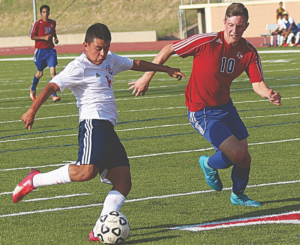 By John Zetmeir / Dodge City Daily Globe@Dodgesportsguy
The Dodge City High School boys soccer team still remembers the feeling of coming up just short of playing for a state championship.
The 1-0 loss to Blue Valley Northwest, the eventual 6A state champions, in the semifinals fueled the returning members of last year's team to continue improving.
"From what I saw, the varsity guys showed up every day and stayed hungry throughout the summer," head coach Saul Hernandez said.
The Red Demons return 17 members from last year's 22-man varsity roster. Over the summer, the group laced up their soccer cleats and worked to get better every chance they could.
"We went to the fields every day, all of us," senior Antonio De La Torre said. "Pretty much the whole varsity team would go and shoot, pass the ball around or practice every day."
Last year was Hernandez's first year as head coach back in his hometown. He led his alma mater to the best season in school history. The Dodge City boys took third place at the 6A state tournament, finishing the year with a 19-2 overall record and a perfect 8-0 mark in the Western Athletic Conference.
It was Hernandez's coaching style and understanding of his players that made the transition a smooth one for both him and his new players.
"Coach Hernandez really knew what he was doing," junior Miguel Baca said. "He knew how to practice us on things that would make us better after every game."
Dodge City returns three players who earned first-team all-state honors last year in juniors Joshua Don Juan, Mario Martinez and Francisco Cayetano. Half of Dodge City's varsity roster was made up of sophomores in 2015.
The Red Demons combination of experience and talent has set the bar high in terms of what they hope to accomplish. Hernandez knows that his team will need to take it step-by-step and not look ahead but for right now, the Red Demons' eyes are fixated on one thing, a state championship.
"(The goal) is to win state, to win it all pretty much," De La Torre said. "We got a taste of it, now we want it all."
During the summer and through the early stages of practice, Hernandez has liked what he has seen from the team.
"I think they're playing more physical," Hernandez said. "They are going into more challenges, they are growing into their bodies and getting stronger as well and in (last year's) state semifinal that was a big factor."
In 2015, the Red Demons were a ball-dominant team that played fast and gave teams very few chances to score. In fact, Dodge City outscored their opponents 94-11 a year ago, which included 14 shutouts. In goal, both senior Jorge Ortiz and junior Jesus Herrara will be back for Dodge City. The two goalkeepers shared time last year.
Hernandez and his players know that teams will likely take a different approach when playing them this fall so they will have to make adjustments.
"We're going to be a little more tactical this year because there are going to be a lot of teams that are going to know what we can do," Hernandez said. "We are going to have to find ways to switch it up and how to break through defenses against teams that are going to play back and play the counter."
The Red Demons will begin their season at Wichita South on Aug. 30 before traveling back to Wichita for the Titan Classic on Sept. 5 when they take on Wichita Northwest. The Red Demons defeated the Grizzlies 2-0 in last year's regional championship game.
SCHEDULE
Aug. 30…….at Wichita South. 6:30 p.m.
Sept. 5……at Wichita Northwest. 1 p.m.
Sept. 13…..at Liberal. 5:30 p.m.
Sept. 15……at Hays. 5:30 p.m.
Sept. 20……vs. Garden City. 5:30 p.m.
Sept. 22…….at Great Bend. 5:30 p.m.
Sept. 27……..vs. Hutchinson. 5:30 p.m.
Sept. 29………at Garden City 5:30 p.m.
Oct. 4……..vs. Hays. 5:30 p.m.
Oct. 6………at Thomas More Prep. 4 p.m.
Oct. 11……….vs. Great Bend. 5:30 p.m.
Oct. 13………..vs. Wichita Heights. 5:30 p.m.
Oct. 17………..vs. Kapaun. 5:30 p.m.
Oct. 20……….vs. Liberal. 5:30 p.m.