By John Zetmeir
Dodge City Daily Globe
A tie was not the ideal result for Dodge City head coach Saul Hernandez but ultimately, the Red Demons' 1-1 finish with Wichita East did not affect their goal of winning a Western Athletic Conference championship.
In their final hom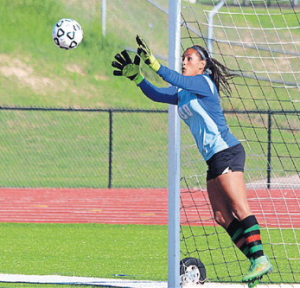 e game of the regular season, the Red Demons (9-3-1, 5-0) were unable to score a winning goal after the Blue Aces tied the game with 20 minutes remaining in the second half.
"The difference was our girls weren't communicating as much and (Wichita East's) were," Hernandez said. "Their touches were a little quicker than ours."
Senior Aaliyah Reyes gave Dodge City a 1-0 lead less than two minutes into the second half. She was one of five seniors who were honored after the game as part of senior night. Hernandez credited the small senior class for their leadership, particularly at the beginning of the season.
"I think them embracing my methods and the new coaching staff really set the tone for the year," Hernandez said. "The other girls saw that they were buying into what we were trying to teach them and the other girls bought into it as well, so it made it a lot easier for us coaches."
With less than thirty second to play in the game, sophomore goalkeeper Angie Ojeda made two saves to send the game into overtime. Ojeda made nine saves against the Blue Aces.
"These last two to three games she's really stepped it up," Hernandez said. "She's playing for the team and she's had her best games."
Dodge City will begin the final stretch of their schedule starting on Thursday when they travel to Hays. The Red Demons sit in first place in the WAC standings but will play their final three conference games on the road.
"I think in these WAC games, we are going to step it up," Hernandez said. "We're going to have to step it up because Hays and Garden City know that if we beat them their title hopes are over."
The Red Demons beat the Indians 2-1 in overtime when the two teams met back in April.