Both boys, girls teams bring home wins in final game before break

By John Zetmeir
Dodge City Daily Globe
After a pair of disappointing losses on Friday night, the Dodge City High School girls and boys basketball teams bounced back to win their final game before winter break.
The g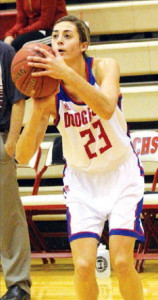 irls team dominated Stanton County from the opening tip in their 60-13 win. Senior Jessica Harshberger propelled the Red Demons by scoring 15 of her team-high 22 points in the first quarter.
"I think she played a little lighter and that's what we need from her," head coach Kelley Snodgrass said. "She just needs to go out there and have fun and play hard."
The Red Demons used their defensive to ignite their offense on Saturday. Dodge City had a combined 23 steals against the Trojans. Senior Brianna Bradshaw led her team with eight steals.
"Our defense was great," Snodgrass said. "(Bradshaw) was all over the court defensively. We had the no give up attitude. I'm pleased with how our defense initiated our offense."
After starting the season with high expectations, the Red Demons (3-2) stumbled out of the starting blocks, losing two of their first five games. Harshberger said that she felt like the break could not have come at a better time for the team.
"Everybody has been tense and stressed and feel like we have to be good," Harshberger said. "We have a lot of talent on our team and it's kind of getting to us like we have to be this good team and I feel like that's what we did today."
With two starters out, the Dodge City boys team (2-3) had other player step up in their 78-46 win over Stanton County.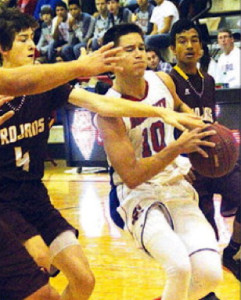 Senior Bryce Unruh led all scorers with 16 points. Junior Chris Baker scored 14 points and senior Matt Karns, who started his first game of the season, scored 12 points.
"They were consistent," Dodge City boys head coach Dennis Hamilton said. "Not one guy went out and had to score 20 points or get 10 rebounds but I think we shared it around quite well."
The Trojans scored back to back 3-pointers to trim Dodge City's lead down to 23-17 to start the second quarter. The Red Demons responded by outscoring Stanton County 25-6 to end the half.
"I think defensively we got more active," Hamilton said. "We got out into the open court and made things happen that way, then we started hitting some shots. (Stanton County) got off to a good start and our kids didn't panic."

The Red Demons will travel to Great Bend on January 5th when they return from break to start Western Athletic