Boys' victory over Hays is most dominant duel win of the season
By John Zetmeir
Dodge City Daily Globe
The Dodge City High School wrestling team beat Hays 60-9 on Thursday night in their most dominant dual win of the season. The No. 3 ranked team was battling with complacency more than they were the Hays Indians.
Head coach Lars L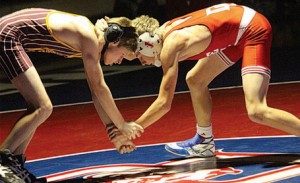 ueders wanted to see him team completely control the dual against Hays annd that's just what the Red Demons did.
"What I told them was that you're not a state championship team until you can wrestle the same against every competitor and I think they did," Lueders said about his team. "They came out ready to go."
After dropping the first two matches, the Red Demons rattled off 12 straight wins, 10 of which included wins with bonus points.
Junior Devon Plaza nearly lost his first match of the season when Hays's Nate LaPorte had the No. 2 ranked 126-pounder in 6A fighting to avoid a pin just seconds into their match.
"I haven't really had a match that has been that tough so far," Plaza said. "Getting thrown to my back like that kind of got the best of me and I started wrestling bad but got myself back together and came back."
Plaza earned the win by major decision to move to 19-0 this season.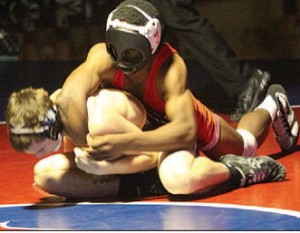 The Indians did not field a full squad against the Red Demons which gave Dodge City 12 free points. Sophomore Ansony Quezada, at 195, and senior Osbaldo Mendez, at 220, were given wins from two Hays forfeits.
"We really want teams to field full teams but it is what it is," Lueders said. "That's what they brought and that's what they have on their team. We can't control it. I'm a big advocate of dual meets and I think dual meets are going to save the sport of wrestling, especially dual meet atmospheres like ours. In order to have fun dual meets, you have to have full lineups."
The Red Demons will get the weekend off before traveling to Clinton, Iowa for the Bob Lueders Invitational next Saturday.. The tournament is named off coach Lueders' grandfather.