Dodge City sweeps season series with WAC rival
By John Zetmeir
Dodge City Daily Globe
When the Dodge City Red Demon girls hosted Garden City last week, it was the Buffaloes that jumped out to an early lead. In Monday's rematch, the Red Demons suffocating defense held the Buffs off of the scoreboard for the first nine minutes of the game in Dodge City's 47-25 win.
The Red Demons led Garden City 12-0 after the first quarter. Garden City's 12 point second quarter was the only quarter in which they scored in double-digits. Dodge City (12-5, 5-0) finished with 28 steals and forced a staggering 40 turnovers.
"We were playing good team defense," Dodge City head coach Kelley Snodgrass said. "I thought they were aggressive and we got some steals. Attribute that to our defense but we had good rotations and we knew where their shooters were."
Jessica Harshberger led the Red Demons in almost every category. The senior guard scored 12 points, grabbed six rebounds and had six steals.
Tuesday's win was the fourth in a row for Dodge City. Next up for the Red Demons is Great Bend, whose only Western Athletic Conference loss this season is to Dodge City.
DODGE CITY BOYS 79, GARDEN CITY 45.
Last Monday, Garden City's Jared Koster scored 22 points in the first half to get the Buffaloes off to a strong start. In Tuesday's rematch, it looked like Koster was primed to have another strong first half but Dodge City's Eric Reid stole theshowintheRedDemons' 79-45 win.
Reid and Koster traded 3-pointers twice before Dodge City's senior guard knocked down two more shots from outside the arc to help give the Red Demons a 11-point lead. Dodge City stretched that lead to 21-points going into the halftime break. Reid scored 12 of his team-high 21 points in the second quarter.
"He got hot and his teammates found him," Dodge City head coach Dennis Hamilton said. "You like to see good things happen to good kids and Eric is a great kid. He did steal the show. He is our sharpshooter from behind the arc."
Dodge City dominated the rebounding battle against the Buffaloes for the second time this season. The Red Demons out-rebounded their WAC rivals 38-21.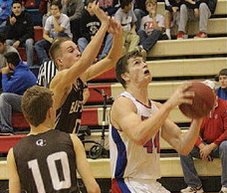 Their 79 points was a season-high for Dodge City.
The Red Demons (8-9, 3-2) won their third straight game, a streak that began with the win over Garden City last week.
Both teams will be back in action on Friday when the Red Demons host Great Bend. The girls are schedule to tipoff at 6 p.m. with the boys team following.
DODGE CITY GIRLS – 12 19 10 6 – 47
GARDEN CITY – 0 12 6 7 – 25 Dodge City – Harshberger 12, B. Bradshaw 8, T. Bradshaw 7, Nelson 7, Nichols 6, Shelor 3, Sowers 2, Maple 1, Morales 1. 15-50 14-24 47. DODGE CITY BOYS – 16 21 17 25 – 79
GARDEN CITY – 8 8 14 15 – 45 Dodge City – Reid 21, McGroarty 18, N. Williams 14, Unruh 8, Karns 6, D. Williams 5, Walters 4, Sanchez 2. 24-37 25-35. 79