By John Zetmeir, Dodge City Daily Globe
The Dodge City High School girls basketball team won their third straight game by 38 or more with a 72-34 win over Cimarron on Friday night.
The Red Demons (5-2) size an athleticism frustrated the Bluejays (6-2) from the opening tip. Dodge City jumped out to a 17-2 lead going into the second quarter, and a 36-10 lead going into the end of the second half.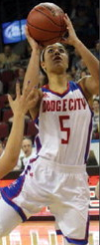 Dodge City was able to force turnovers that helped to pad their lead early. The Red Demons scored 17 first half points off 17 Cimarron turnovers.
"It's great team effort," Dodge City head coach Kelley Snodgrass said. "We played solid defense and we would attribute that to the first half, holding them to just 10 points. Cimarron scores a lot of points so it was great team basketball."
Seniors Jessica Harshberger and Brianna Bradshaw led the way for the Red Demons, combining for 29 points and seven steals.
"I think we're just all coming together," Bradshaw said. "We're communicating and working together to get those wins."
Dodge City will face one of their toughest tests of the season when they travel to Central Plains on Tuesday.
DODGE CITY BOYS 62, CIMARRON 49.
The Cimarron Bluejays sta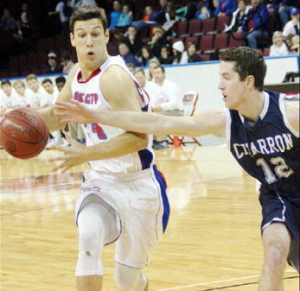 yed within striking distance throughout the second half but we unable to get any closer than eight points in the fourth quarter. The Red Demons (4-3) beat the Bluejays (5-3) 62-49, winning their third game in a row.
"(Dodge City) is very talented," Cimarron head coach Tim Brooks said. "They are big, strong, athletic kids. I think that we figured out tonight that we can play with teams like that."
The Red Demons took a 34-18 lead after a layup from senior Noah Williams midway through the third quarter. The Bluejays responded with a back to back buckets to help them get back into the game.
Dodge City had four players finish with double-digit point totals. Senior Dayton McGroarty, who scored 19 against Great Bend on Tuesday, scored a teamhigh 20 points against the Bluejays.
"It was a nice team win," Dodge City head coach Dennis Hamilton said. "Did it happen the way we wanted it to, no. We would've like to push 16 (point lead) to 20 and see what happens from there but give Cimarron a lot of credit."
The Red Demons won the turnover battle 23 to 12 and scored 22 points off of those turnovers. Dodge City will travel to Central Plains on Tuesdayfortheirnextgame.