The Dodge City Red Demons have one hand on the Western Athletic Conference title after their 8-0 win over Hays on Tuesday. The Dodge City boys soccer team is 10-1 overall and 6-0 in WAC play.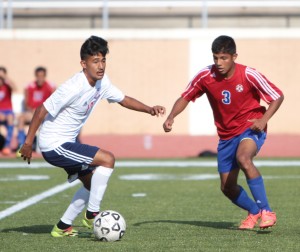 A WAC title was one of the teams' goals this season. Sharing it was not.
"The boys wanted it tonight and we got it but they don't want to share it with anybody," head coach Saul Hernandez said. "The excitement is still there and that gives us a goal to look forward to towards the end of the season. It keeps the boys motivated."
Earlier this season, Dodge City beat Hays 10-0. In the first half, the Red Demons looked like they expected that to happen again. Hernandez did not sugarcoat the first half performance. He called it maybe the worst half of soccer that his team has played this year.
"The first half I think we just came out flat-footed," head coach Saul Hernandez said. "I think the guys thought that the game was won before it started and you can't go out with that mentality. They picked it up in the second half and they came out playing like we usually play."
Sophomore forward Joshua Don Juan scored two goals in the first five minutes of the second half to push the Red Demons lead to 4-0. Dodge City scored five goals in the first 20 minutes of the second half.