Fantastic finish
Demon girls fall just short of WAC title; boys squad takes third
John Zetmeir
Dodge City Daily Globe
It came down to the very end on the girls side between Dodge City and Garden City on Thursday afternoon at Memorial Stadium for the Western Athletic Conference track and field championships. The Buffaloes edged out the Red Demon girls by seven points to claim the conference title. On the boys side, Dodge City took third place with a total score of 81 points.
In the girls fin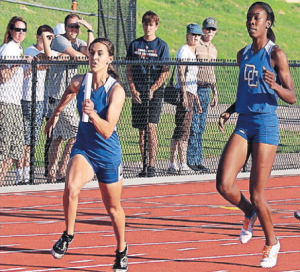 al event of the day, the Red Demons fell to Garden City in the 4×400 meter relay by less than a second.
Four individuals on the Dodge City girls squad earned WAC titles. On the track, senior Brekk Flax earned gold in both the 100 meter and 200 meter dash. The senior standout also anchored the 4×100 meter relay team that outran the competition.
"Running in front of the home crowd is probably the greatest thing you could ever do," Flax said. "It's our only home meet so that helped a lot."
Junior Tia Bradshaw added a pair of WAC titles for the Red Demons girls team as she out jumped the competition in both the girls long jump and triple jump events.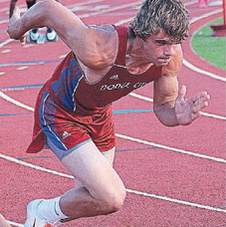 For the Dodge City boys, two individuals, as well as the 4×800 meter relay teams were crowned WAC champions on Thursday.
Junior Alex Ultreras finished off the individual events on the track with a bang as he set the Memorial Stadium record in the boys 3200 meter. After sitting in third place going into the final lap Ultreras, along with teammate Marcelo Cruz, raced neck and neck for the final 100 meters.
"The la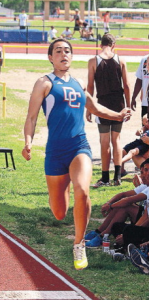 st lap, I was just thinking about getting the team some points," Ultreras said. "Me and Marcelo gave it our best and we came in at one and two. Working as a team, is the best thing you can do and because of that, we won that race."
Fellow junior Jason Luft, along with Ultreras and Cruz, helped the Dodge City boys to their only first place relay finish in the 4×800 meters. Luft also earned a WAC championship in the boys 800 meter run.
"I feel like we have a good chance to place at state," Luft said about the 4×800 meter team. "We'll just see how far we go. Regionals is next week so hopefully we can get a better time."
The Red Demons will travel to Garden City next Friday for regionals.
200m Dash: Tyler Trent, 3rd, 23.22 400m Dash: Tyler Trent, 3rd, 51.82. 800m Run: Jason Luft, 1st, Felix Marquez,
5th,
1600m Run: Alejandro Ultreras, 2nd,
4:33.34.
3200m Run: Alejandro Ultreras, 1st, Marcelo Cruz 2nd.
110m Hurdles: Samuel Unruh, 4th, Jalen Gifford, 5th.
300m Hurdles: Dawson Williams, 3rd, Jalen Gifford, 4th.
4×100: Del Real, Gomez, Unruh, Morales,
3rd.
4×400: Marquez, Cruz, Calderon, Luft, 4th 4×800: Cruz, Marquez, Calderon, Luft,
1st, 8:08.20
Pole Vault: Jordan Dewell, 5th, Long Jump: Tyler Trent, 2nd. Triple Jump: Tyler Trent, 4th.
GIRLS:
100m Dash: Brekk Flax, 1st, 12.34. 100m Hurdles: Savana Wilson, 1st, Brianna Bradshaw 2nd.
300m Hurdles: Brianna Bradshaw 3rd, Savana Wilson, 4th.
200m Dash: Brekk Flax, 1st. 25.63 400m Dash: Jessie Harshberger, 1st, Chia Okoro, 2nd.
800m Run: Jessie Harshberger, 2nd, Mariela Aldaba, 5th.
1600m Run: Ayanna Hensley, 3rd, 5:39.30 4×100: Okoro, Page, Okoro, Flax, 1st,
49.87.
4×400: Okoro, Flax, Bradshaw, Harshberger, 2nd.
4×800: Harshberger, Duarte, Okoro, Aldaba, 1st, 9:57.04.
High Jump: Ezinne Okoro, 5th. Long Jump: Tia Bradshaw, 1st, Brianna Bradshaw, 4th.
Triple Jump: Tia Bradshaw, 1st, Brianna Bradshaw, 3rd.