Dodge City hangs on to a 1-0 lead extend their winning streak to three games.
By: Timothy Everson
The defense was the star again for the Dodge City girl's soccer team as they put up a 1-0 shutout, their third of the season, over rival Garden City.
Junior goalkeeper Angie Ojeda had several key saves as the minutes wound down in the second half to help her team clinch the win.
"With her back there and the defense, they give us a lot of confidence," head coach Saul Hernandez said. "They both came up big in another shut-out. They work hard for it."
With the win, the Lady Demons are now 5-2-1 on the season and 3-0 in WAC play. After starting the season with two losses in their first three games, Dodge City has won four of their last five.
"I think we're starting t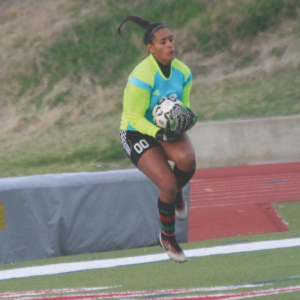 o hit our stride," Hernandez said. "Players are starting to step up and there's a lot of players doing there job and it makes it easier for me to sub them in because they are giving me the confidence to put them in."
Dodge City was aggressive throughout the first half, keeping the ball on Garden City's side of the field but never quite getting over the hump to get that first goal in.
More Video:
Cowley sends the game into overtime with a 3-pointer at the buzzer.
Then, with 15:43 to play in the second half, it was senior Aneth Morales who stayed with a ball right in front of the goal, getting it in after several deflections.
"The build-up play was excellent," Hernandez said. "I think six different girls touched the ball before it landed to Aneth and she did a great job staying with it and finishing it off. She had a couple of rebounds, it bounced back to her but she stuck with it and put it in the back of the net."
From there it was Ojeda and the defense who held onto the lead until the clock clicked down to zero.
Garden City is 4-5 on the season but even with the differences in records, Hernandez expected nothing less than their best.
"The Garden/Dodge game is always going to be difficult," Hernandez said. "One team could be having a tough year and another could be having a great year and that all goes out the window when we're playing each other. It's great to win at home in front of our fans and it makes it better going into the three day weekend."
Dodge City will take their streak on the road next week as they head east to take on Wichita-Trinity.