Event set up to help three-year-old recently diagnosed with Leukemia

By John Zetmeir
Dodge City Daily Globe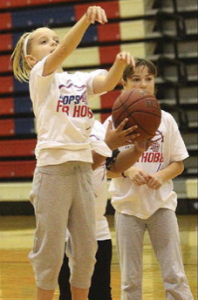 On Tuesday, the USD 443 physical education staff along with the Dodge City High School Athletic Department put on the first Hoops For Hobbs basketball fundraiser.
The event was set up to raise money for Jackson Hobbs, a three-year old in Dodge City who was recently diagnosed with Leukemia.
PE teachers from all over town put their heads together to come up with the idea to raise money.
Mary McGroarty, a PE teacher at Comanche Middle School credited Linn Elementary's April Baugh for coming up with the Hoops for Hobbs idea.
"She said that we need to try to think of something to do for Adam's family," McGroarty said. "(Baugh) threw out a bunch of ideas and she said Hoops for Hobbs."
From 9 a.m to 2 p.m on Tuesday, kids of all ages participated in basketball activities at the Dodge City High School gymnasium.
Among the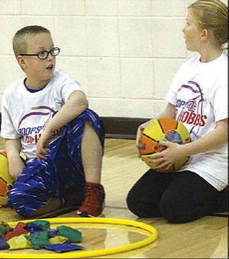 volunteers were members of the Dodge City High School boys and girls basketball teams.
"I think it's awesome," high school junior Christopher Baker said. "We're just having fun. It's also for a good cause for the Hobbs family and it's great for the kids."
There was a $10 fee to attend the event and every attendee received a T-shirt.
There were 230 kids who preregistered for the event. According to McGroarty, the first T-shirt order that was placed was for 500 T-shirts. All proceeds will go to the Hobbs family.
"Leading up to this, we all kept sharing stories of different kids wanting to help or pay their $10 and bring an extra $10," McGroarty said. "Things like that have been very refreshing and you can tell that they truly care."
On January 8th when Dodge City and Cimarron meet on the court, the players will wear their Hoops for Hobbs shirts during warmups.
Junction City High School also placed an order for 40 T-shirts.