Dodge City High School FCA is pleased to announce that Dayton Moore has accepted an invitation to speak at this year's TOC-FCA Breakfast. The breakfast has been hosted by FCA since 1981. This year's breakfast will be held at Dodge City High School beginning at 8:30am. Tickets may be purchased in the DCHS Athletic Office, at the TOC, or the morning of the event at DCHS.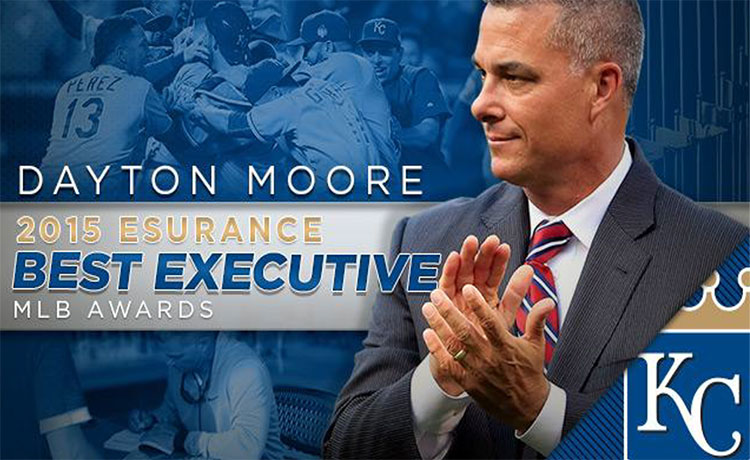 Dayton Moore became the sixth general manager in Royals history on June 8, 2006. Under Moore's leadership, the Royals built one of the best farm systems in baseball en route to winning the 2015 World Series in the club's second consecutive trip to the Fall Classic, and first World Series championship since 1985. That was following the club reaching the postseason for the first time in 29 years as they won the 2014 American League championship by setting a Major League record with eight-straight wins in the playoffs.
After the 2014 season, the Royals were selected as the Baseball America "Organization of the Year" for just the second time since the publication started the award in 1982, and Moore was awarded the "Executive of the Year" by Major League Baseball (GIBBY Awards) as well as the Kansas City Sports Commission.
Moore, a native of Wichita, Kansas, was elected to the State of Kansas' Baseball Hall of Fame and named Kansan of the Year by the Native Sons and Daughters of Kansas. Moore was also tabbed Alumnus of the Year by George Mason University. Moore graduated from George Mason University in 1989 with a degree in physical education and health, and later earned his master's degree in athletic administration from GMU. Before joining the Royals, Moore worked in various capacities in player development for the Atlanta Braves from 1994-2006.
A leader in the Kansas City community, Moore is a regular speaker at numerous community events each year. In 2013, Moore started the "C" You In the Major Leagues Foundation. It was created to support youth baseball, education, families in crisis and faith-based programs and organizations.
He and his wife, Marianne, reside in Leawood, Kan., and have two daughters, Ashley and Avery, and a son, Robert.