Boys team falls to Eisenhower 88-76
By: Sheldon Burch
Dodge City Globe Sports Editor
The Red Demons boys basketball team fell to the Tigers Friday night after a back-and-forth battle that included 10 lead changes.
Eisenhower's Jeffery Wake had a game-high 33 points for the Tigers.
For the Red Demons, junior Noah Sowers led the way with 29 points on 10 of 16 shooting from the field and 6 of 7 shooting from the free-throw line. Sowers also made 3 of 5 from 3-point territory.
Senior Dawson Williams led the Red Demons in rebounding with a team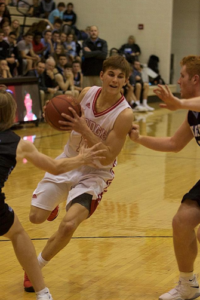 high eight boards.
"I thought we played our tails off," Red Demons head coach Tony Starnes said. "(Eisenhower was) an exceptionally-good team we were playing against and we like playing good people just because that prepares us for later but they're really well-coached, really good players."
Through much of the game, the Red Demons boys held their own, Starnes said, often matching Eisenhower point-for-point. Near the end, however, they got in their own way a little bit though, he said.
Still, despite the loss, Starnes said the effort the players are giving is helping the team come along.
Up Next:
The Red Demons basketball teams finish out their December slate when they host the Guymon Tigers Tuesday. The girls game is scheduled to start at 6 p.m., while the boys is scheduled to tip off at 7:30.