DCHS Cross Country runners take first
Three Demon golfers earn state berth
By: John Zetmeir
CROSS COUNTRY
Both the Dodge City High School boys and girls cross country teams took first place at the Salina Invitational on Saturday.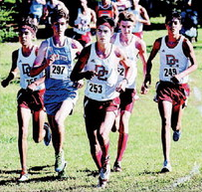 The Red Demon boys dominated the competition with a team score of 26. Dodge City had five runners finish in the top-10 with senior Marcelo Cruz leading the way with a third place finish. Jason Luft and Javier Marquez rounded out the top five while seniors Brett Groth and Alex Ultreras finished sixth and eighth.
Saturday's first place finish in Salina
Red Demons have taken first place as a team at a meet this fall.
The Red Demon girls were led by senior Coral Neave who finished fifth and sophomore Ayanna Hensley finishing just behind her. Dodge City finished with 47 team points. America Garcia, Luz Lopez and Lucy Lozaro all finished in the top-20.
Dodge City will host the Western Athletic Conference championship meet this Thursday. Both the boys and girls team won WAC titles last season. The Dodge City girls are looking for their third-straight conference championship.