Red Demons knock off top-seeded Buffs
By John Zetmeir
Dodge City Daily Globe
Before taking the mats for their matches, Dodge City High School senior Clay Weil and junior Devon Plaza said to each other that both wrestlers needed to pin their opponents. They did.
The two standout upperclassmen secured Dodge City's first dual win over the three-time defending 6A state champion Garden City Buffaloes since head coach Lars Lueders took over the program eight years ago, 34-29. The Buffaloes are currently the top-ranked team in 6A.
"It's been a long ti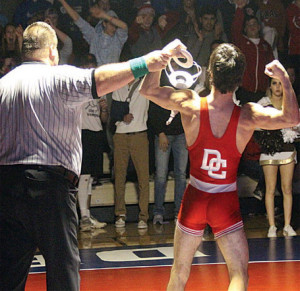 me coming," Weil said. "We've had quite awhile to get our team together so that we can beat (Garden City.) It means a ton to me, it means a ton to my family and I know it means a heck of a lot to this town."
With the Red Demons trailing 24-22, Plaza pinned Garden City's Sammy Guevara at 126 pounds. Weil followed that up with a pin of his own against Malachi Salas at 132.
Lueders said going into the dual that the decision would likely be decided by bonus points. He credited not only his wrestlers who earned bonus points, but also those who did not surrender any. Junior Devon Griego fell to Garden City's Kaj Perez at 120 but did not give up any bonus points in the match. Perez is the top-ranked wrestler at 120 in 6A.
"Devon Griego not giving up a bonus point, staying tough, was huge," Lueders said. "That kid is a tough kid."
After the Red Demons loss to Great Bend, Lueders called it a wake up call to his team. Looking back at it, that wake up call might have been just what Dodge City needed.
"We needed to see that we have a lot to work on and we're not at the level that we want to be at right now," Lueders said. "I don't think that without that loss, this would have been possible."
Garden City jumped out to an 18-3 lead but a pin by Dodge City's Ansony Quezada and an extra time win for Zerek Rodriguez brought the Red Demons back within striking distance.
The Red Demons will look to build off of their big win as they travel to Wichita on Saturday for the Maize Invitational.
"I think more than anything, they have to know that they are a really tough team and they have the potential to win state," Lueder said about his team. "But they have to continue working hard. This win for us is going to fuel Garden City like Great Bend fueled us."