Demon girls top Liberal, boys fall in final seconds
John Zetmeir
Dodge City Daily Globe
A strong third quarter propelled the Dodge City High School girls (15-5, 8-0) to a 47-35 win over Liberal on Thursday night. The win capped off a second consecutive undefeated season in Western Athletic Conference play for the Red Demons, who have won their last 19 conference games.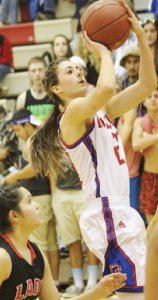 Four quick points from the Redskins to start the second half cut Dodge City's lead to 18-16 with 6:52 remaining in the third quarter. The Red Demons ended the quarter on a 13-4 run to give Dodge City some breathing room.
"It was huge, especially being in foul trouble," Dodge City head coach Kelley Snodgrass said."I thought the way (Liberal) came out after half was big. Our bench came in and gave us some good minutes."
Despite shooting just just six free throws on the night, it was 3-point shooting that sparked the Red Demons offense. Dodge City made 7-of-18 shots from outside "It was a huge spark for us," Snodgrass said. "They collapsed inside so we kicked it out to our man, our feet were set and we knocked down some big shots."
In her final regular season home game as a Red Demon, senior Jessica Harshberger led her team with 18 points. Harshberger scored Dodge City's first eight points of the game. It was a 3-pointer from the senior guard that initiated 13-4 run to end the third quarter.
Dodge City's four seniors combined for 37 of the Red Demons' 47 points.
LIBERAL 58, DODGE CITY BOYS 56.
The Dodge City boys (1010, 5-3) fought their way back from double-digit deficit but ultimately came up just short of a share of the Western Athletic Conference title on Thursday night. The Red Demons fell to Liberal 58-56 to snap their five-game winning streak.
A 3-po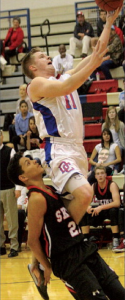 inter from senior Eric Reid tied the game with 1:16 to play. The shot helped erase a 13-point Liberal lead.
After losing two of their five starters for the final four minutes of the game, junior Chris Baker came off the bench to hit two crucial 3-pointers for the Red Demons. Bakers' second basket cut the Redskins' lead to 57-56 with just under seven seconds to play.
"The first guy I congratulated on his performance was Chris Baker," Dodge City head coach Dennis Hamilton said. "He, as well as (Reid) helped shoot us back into it."
A 12-0 run from Liberal to start the second forced the Red Demons to play catch up for the final 12 minutes of the game.
Liberal's Timothy Fitzgerald, who scored a game-high 21points,was the catalyst for the strong start. The senior guard scored nine points in the first four minutes of the second half.
"Fitzgerald hit a couple of shots there and we didn't get much of an offensive flow," Hamilton said about the start to the second half. "It was a physical game. They made shots and we didn't."
Both teams will be back in action next week for substate play. Liberal – 10 12 19 17 – 58 Dodge City boys – 13 8 11 24 – 56 DODGE – McGroarty 14, Reid 13, Williams 12, Baker 6, Karns 5, Walters 2, Heath 2, Unruh 2. 22-53 5-14 56.
Dodge City girls – 12 6 18 11 – 47 Liberal – 4 8 11 12 – 35 DODGE – Harshberger 18, B. Bradshaw 8, T. Bradshaw 8,Shelor6,Nichols5,Nelson 2. 18-43 4-6 47.