Red Demons shine in Hays
By: John Zetmeir
Boys soccer
In their first week of Wes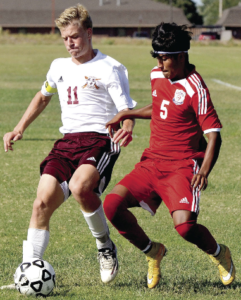 tern Athletic Conference play, the Dodge City High School boys soccer team looked just as dominant as they did a year ago when they did not drop a league game.
The Red Demons (6-0, 2-0) defeated Hays 9-0 on Thursday in Hays to finish up the six-game road stretch that they started the season on. Dodge City is at the top of the WAC standings after wins over Liberal and Hays.
Six Red Demons got on the score sheet with Tony De La Torre, Mario Martinez and Josue Castillo leading the way with two goals each. Eddie Del Toro, Diego Olivares and Joshua DonJuan added a goal as well.
Dodge City will play in front of its home crowd for the first time this season on Tuesday when they host Garden City. The Buffaloes fell to Liberal 3-2 on Thursday.
Cross country
The Dodge City boys cross country team took first place for their second straight meet with a team win in Hays on Thursday with a team score of 25.
Five Red Demons finished in the top-11 as senior Marcelo Cruz won the individual first place medal for the second meet in a row as well. Jason Luft and Javier Marquez both finished in the top-five.
The Dodge City girls took second in the class 5A-6A race and fourth overall with a 41 team points. Senior Coral Neave finished in the fourth with a time of 21:18.17 while sophomore Ayanna Hensley finished sixth to give Dodge City two top-10 finishers.
Both teams will have a little more than a week off before their next race on Sept. 24. The boys will go to Lawrence while the girls team travel to Stillwater, Okla.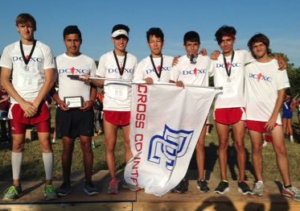 Girls golf
The Dodge City girls golf team bounced back from a rough outing in Garden City with a fifth place finish in Eisenhower on Thursday amongst an 11-team field.
Chesney Moore and Makena Konrade led the Red Demons with scores of 49. Just behind the two leaders was senior Emily Stephenson who shot a 50.
The Dodge City girls will travel to Liberal next Thursday to tee off against their Western Athletic Conference foes Liberal, Great Bend, Hays and Garden City.
Other scores, Ali Phelps 53, Alexis Ontiberos 65, Olivia Gregg 70.