Red Demons blast past Hays
HAYS — A stout defense, sustained drives and big plays powered Dodge City to a 44-14 win at Hays on Friday night.
The win lifted Dodge City to 4-2 overall and 1-1 in the WAC as they ready for the 79th Hatchet Game next week against Garden City at Memorial Stadium.
The Red Demons scored 37 unanswered points on the campus of Fort Hays State after Hays tied the game 7-7 in the first quarter before allowing a fourth quarter score to Hays late in the game.
Dodge City was paced by the 1-2 punch of quarterback Dawson Williams and running back Tyler Garcia. The two combined to score six rushing touchdowns — four for Williams who increased his total on the season to 18.
Dodge City took a 7-0 lead in the first quarter on a 10-yard touchdown run by Williams on a fourthand- 2 after the Red Demons forced a three-and-out on Hays' initial possession.
Hays tied the game a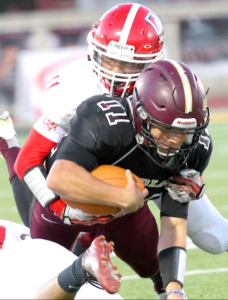 t 7-7 with just more than 4 minutes to play in the stanza, but the Red Demons took over from there.
With less than a minute to play in the quarter Williams scored from a yard out to give Dodge City the lead for good.
Hays used a long drive to get within field goal range, but the Red Demons blocked a 31-yard field goal attempt. Two plays later Williams scored on a 74-yard run to increase the lead to 21-0.
A Carlos Fernandez 34-yard field goal late in the first half gave the Red Demons a 24-7 halftime lead.
Another big play helped Dodge City keep momentum in the third quarter. After the Indians forced a Dodge City punt, the Hays returner muffed the punt and the Red Demons recovered deep in Hays territory. Two plays later Williams scored from 9-yards out to push the lead to 30-7.
The Indians tried to get back on track and engineered a 16-play drive, taking 7 minutes off the clock, but came away with no points as they turned the ball over on downs to Dodge City.
The Red Demons wasted no time in scoring again, going 74-yards on four plays, capped off by Garcia's 27-yard touchdown run.
Dodge City's third big play of the game was a fumble recovery on Hays' next possession and Garica again capped off the Dodge City scoring drive with a 1-yard run early in the fourth quarter.
Dodge City's domination was so complete the Red Demons punted just once throughout the majority of the game and that punt resulted in the muff.
The Red Demons will host Garden City next Friday in the Hatchet Game. Kickoff at Memorial Stadium is set for 7 p.m.